Happy March, everyone! Now we just need Spring to be here...I think it's late on arrival, but I have faith it's on its way!
One of my favorite bloggy things in the whole wide world, is the Currently linky party with
Farley at Oh Boy Fourth Grade
!
So, without further adieu, my March Currently....
Listening: No, Dixieland is not my favorite type of music. But, I am getting ready to teach the regions this week, beginning with the Southeastern states; so, of course, that means we are celebrating our trip to Louisiana by listening to different types of New Orleans music on Tuesday!
Loving: Right now, it is my school's spring break. No, I'm not going anywhere warm, but I am taking advantage of home-cooked meals all week long, and having time to plan out my activities for the month!
Thinking: I can't believe our state's testing is at the end of this month! I've been making things to review and prepare my kiddos for the test. This week, we started with a fraction frenzy. I told them we are totally doing math differently - they are taking a teaching role by working in groups and partners, and they decide what we do each day (to some extent, of course). Yes, I'm still giving quizzes, but it's all depending on how and what we do the day before. The first day of fractions, I told them they needed to prove they could show fractional parts. So they were off searching the room for objects they could use to trace. Then, they folded their paper until they made fractional parts.
In ELA our focus was on summarizing, paraphrasing, and quoting within nonfiction text. We started by having a student-created anchor chart or two. (Okay, yes, that's my writing. But, they made the post-its)
While this is NOT what I do with my students, it's too funny not to share. It shows the state, administration, and teacher view of the state testing... I LOVE how it says, "the joy of learning" hahaha - no pressure!
How I actually feel about the standardized tests...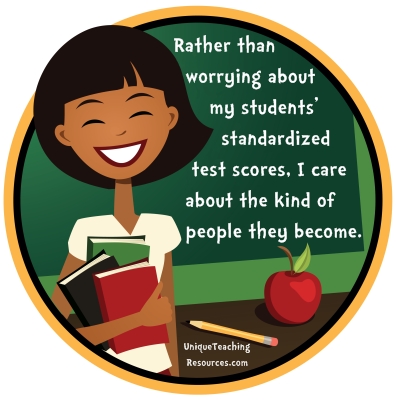 So no, I don't worry about how they score. I tell them to not worry about how they score either. I'd rather give them the confidence that they are familiar with all the material on the test, because they are prepared, and they can achieve well if they try. Yes, common core means that things are going to change, and things may be harder. But, we are ready to take on the challenge. Anyway, enough of my rant, and back to my currently.
Wanting: That's right. Call People magazine, it's official. Winter and I have ended our relationship. After the bipolar vortex, it's him, not me. I'm so through with the snow. While I love the whole, snow-globe look, I'm ready to retire my boots for some heels or flats.
Needing: I don't know what it's been about the past few days, but I've had a hard time keeping up. Maybe I'm planning too much, or maybe it's just that time of year. Either way, I've had more than my usual amount of coffee in the week, and I'm way over my limit. However, Starbucks shareholders should love me. You're welcome, I'm sure I've contributed a decent amount to your stock this week.
?????: Any idea what a sailor hat, Minnie Mouse ears, and Mardi Gras masks have in common? Leave me a comment with your guess, and find out later this week in my next post! :)
Well, back to planning I go! Wait until you see what our class is doing for Read Across America's celebration on Monday! Have a wonderful weekend, and hopefully avoid the snowstorm!